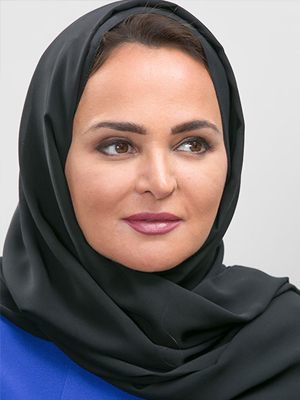 Contact Info
Sheikha Hanadi Bint Nasser Khaled Al Thani
Vice Chairman, Nasser Bin Khaled Al Thani & Sons Holding Company
Sheikha Hanadi has had a long and distinguished career and is renowned for her entrepreneurial spirit and leadership. She is the Founder & Chairperson of Amwal, founder & CEO of AL Waab City Real Estate development project and Vice Chairman of Nasser Bin Khaled Al Thani & Sons Group, Founding Chairperson of Q-Auto.
Sheikha Hanadi believes passionately in the importance of community service and corporate social responsibility and is a pioneer in these fields. Accordingly, she serves on the leadership on a host of esteemed charitable and educational-based organizations and projects. Most notably, Sheikha Hanadi acts as a trustee on the board of College for Business and Economics at Qatar University, as the Chairperson of "INJAZ Qatar", is a Chairperson of "INJAZ AL Arab" the regional arm of "Junior Achievement Worldwide", and as a member of the ME Board of "Planet Finance". Additionally, her range of contributions, include being a member of the Board of Governance of the Pearl Initiative, as a member of the advisory board of the Harvard Business Review Al Arabiya and residing as a Founding Co-Chairperson of the 30% Club GCC chapter, a regional volunteer effort of multi-sector leaders working together towards better representation of women on boards and in senior-level positions.
Over the span of a decade, Sheikha Hanadi continued to diversify her portfolio while serving as a board member of "Dana Gas", as an Executive Committee Member in "Silatech", as well as a Special Advisor to Standard Chartered Bank and a member of the Bank's Gulf Advisory Council (GAC) and served also as advisory board of one of the best universities in the world, MIT Legatum Center for Development and Entrepreneurship at the Massachusetts Institute of Technology.
Throughout the course of her career, Sheikha Hanadi has been showered with numerous awards and accolades and was named Young Global Leader by the World Economic Forum in 2005 and voted as personality of the year by Arraya, Qatar's leading newspaper, for her vision and her vital contributions to Qatar's economic growth. She was awarded CEO of the Year by the Middle East CEO Awards Institute in 2006, for her significant influence in developing Qatar's robust economic and social presence in the Arab world and she was selected by Arabian Business Magazine as one of the world's 100 most influential Arabs for consecutive years. In 2007, the Qatar Chamber of Commerce and Business Council selected Sheikha Hanadi as the 'Economic Personality of the year'. The Financial Times voted Sheikha Hanadi among the Top 20 female role models in global banking and finance in 2008. In 2010, she started off the new decade with a collection of recognitions, starting with the 'Businesswoman of the Year' award from ITP Publishing Group.
Sheikha Hanadi, a mother of 3 children, holds an Executive-MBA from London Business school, a Masters degree in Economics from the University of London, and a Bachelor's degree in Economics from Qatar University.