Governance in Philanthropy
Optimising the impact of giving across the Gulf Region
The Governance in Philanthropy programme has been developed to support corporate and institutional donors striving to be more strategic and impactful in their giving. Through community engagement and research, the programme promotes improved governance standards in the Gulf Region's philanthropic ecosystem. The programme is supported by the Bill & Melinda Gates Foundation and King Khalid Foundation in Riyadh, Saudi Arabia.
Governance in Philanthropy at a Glance
Phase one: Upon the launch of the programme in August 2017, we collected significant data on the current state of governance in philanthropy through a survey of the governance expectations of institutional donors and  the existing practices adopted by philanthropic and non-profit organisations.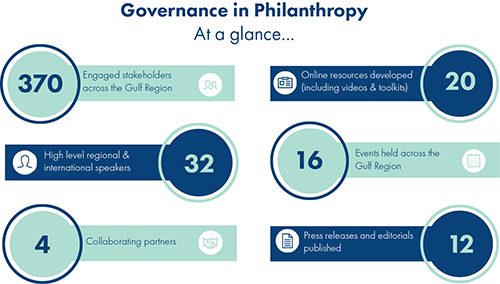 Phase two: Having identified the three (3) main challenges in the sector (transparency, reporting and impact evaluation) we launched the second phase of the programme in December 2018 to incentivise the implementation of best practices in those areas across the philanthropic activities of entities operating in the Gulf Region.
To date, we've hosted interactive workshops on how to develop a "theory of change" for philanthropic investments in Riyadh and Dubai, alongside a number of panel sessions highlighting the value of transparency and impact measurement in optimising the effectiveness of giving. Additionally, we published bespoke guides and templates on the implementation of governance in philanthropy.
The Pearl Initiative Gulf Business Philanthropy Circle
A Gulf Business Philanthropy Circle comprised of representatives from leading corporate and family business donors, has been established to provide a platform for members to share opportunities and challenges in planning and delivering results-driven corporate social responsibility and corporate philanthropic programmes and activities. Designed to discuss lessons learned and promote collaborations, the focus of the Circle for this year will be to explore what "embedding sustainability to the core of the business" entails in the current regional business environment.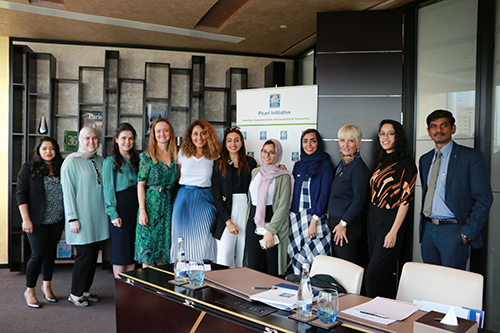 Looking Ahead
We will continue to build on the data collected in the first phase through the Gulf Philanthropy Circle, convening members from leading organisations engaged in structured giving in an effort to build standards and best practices for giving in the Region.
Through the development of resources and practical knowledge-sharing settings the programme will contribute significantly towards the drive towards maximising the impact of giving regionally.