Diversity in Business Leadership
Embracing Diversity as a Business Imperative
The bottom-line business case for higher levels of diversity is well researched and increasingly understood. Good corporate governance encompasses a rigorous system spanning all aspects of accountability and business practices. Diversity means having the right mix of experience, skills and perspectives as part of the leadership team to maximise views and opportunities the business can take advantage of and is one of the facts of modern business: a diverse organisation is a competitive one.
The Pearl Initiative's Diversity in Business Leadership programme was launched in 2014, and ever since then, has been making the business case for increased diversity across organisations, and raising awareness of how diversity and inclusion (D&I) are pillars of effective corporate governance. We interact with corporate, educational, public sector, and non-profit entities to ensure a holistic approach to understanding the D&I needs of businesses across the Gulf.
Achievements include the launch of four (4) reports, twelve (12) regional events, and collaborations with over fifteen (15) regional collaborators. We have also developed infographics, videos, and webinars as part of the programme's information dissemination and educational resource development initiatives.
In 2019, the Pearl Initiative partnered with NAMA Women Advancement Establishment to launch novel research on the nature and extent of women's workplace experiences in five (5) Gulf Region economies. This included
the launch of a survey,
the development of a Key Findings infographic and animated video based on the results of the survey, and
a series of regional workshops based on the outcomes of the survey.
We also connected students with women business leaders to develop a Case Study Report, which is presently being developed.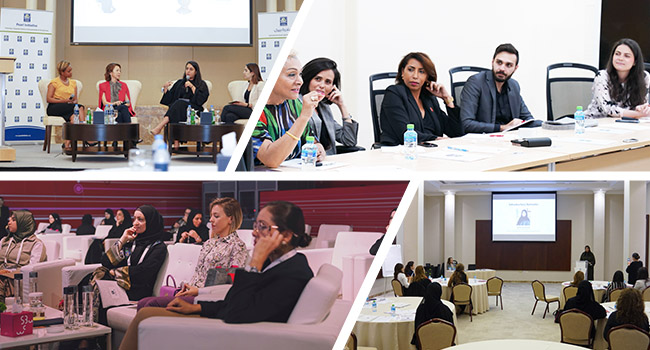 Looking forward, the programme aims to focus on how age should be a factor to consider in organisations as part of their D&I policies. It also hopes to examine how women entrepreneurs in the Gulf Region can be supported by a variety of actors. All activities will include original research and events designed to share our findings and develop a set of resources and collaborative network to overcome D&I issues and challenges in the Gulf Region collectively.
To learn more about our activities and partner with us on this programme, please contact us at enquiries@pearlinititive.org.