Governance in Family Firms
Creating visionary, forward-thinking and adaptable family businesses
As family businesses generate a large percentage of economic value in the region, we find it imperative to promote and improve effective operations and governance policies implemented by family firms. The first phase of our flagship programme, Governance in Family Firms, established the business case for long-term value creation through the adoption of best governance practices across regional family businesses.
Through data collection and shared experiences, we demonstrated the benefits of insitutionalising policies and procedures across family-owned businesses, ultimately leading to their sustainability and resilience. Our case study report published in collaboration with Tharawat Family Business Forum found that Gulf family business owners do believe that corporate governance is becoming a key factor that will ensure the long-term health of the company and improved transparency, access to capital and talent.
In the contemporary landscape, new cohorts of family members are joining the family business, presenting unique challenges and opportunities. As such, the second phase of the programme aims to better understand the needs and demands of the next generation and how their involvement will shape their family business governance and boardroom dynamics.
In 2019, we supported research conducted by the Sheikh Saoud Bin Khalid Bin Khalid Al Qassimi Chair in Family Business, which studied current trends in succession planning. Our results were published in the survey report "Family Business Ecosystem in the United Arab Emirates". The graphic below summarises some of our key findings.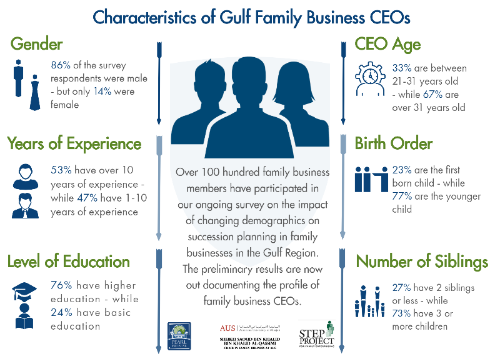 Further, we renewed our partnership with Tharawat to study the various elements of family business governance and the role family business boards play in strengthening family business resilience. As part of our project, we hosted an interactive webinar and a high-level roundtable featuring regional family business members. We will also be launching a thought leadership publication featuring insights from subject matter experts, as well tools for family businesses to support the development of visionary, forward-thinking and adaptable boards for the future.
Looking forward, the Pearl Initiative aims to deliver practical-learning workshops for family business members to better equip them with the tools and resources needed to maximise value in an ever-changing socio-economic landscape.
To learn more about our activities, please contact us at enquiries@pearlinititive.org.