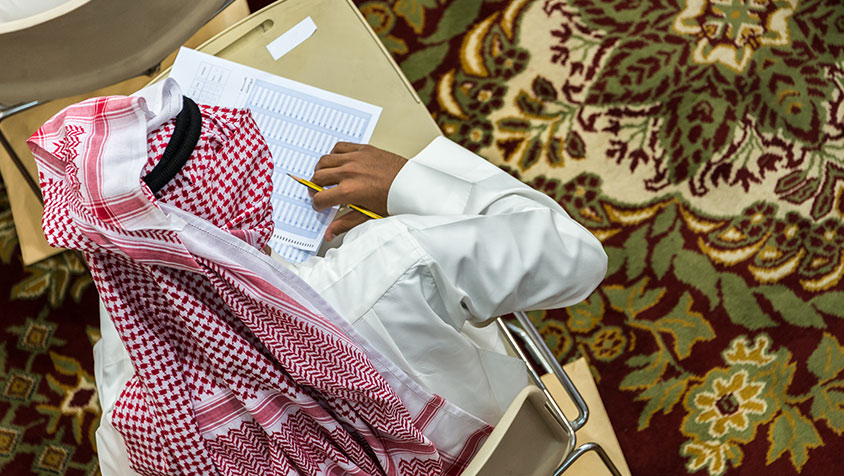 Engaging students in Saudi
We spent a fascinating few days in Saudi Arabia last week, meeting with the Deans and many Faculty members of business and management schools and entrepreneurship centres at the leading universities right across the Kingdom.
As you know, the Pearl Initiative's mission is to advance corporate accountability and transparency in the region by raising awareness, influencing mindsets, reinforcing the business case and sharing good practices widely across the business community.
One important aspect of our mission is our work with Universities on curriculum development and interactive workshops for students, in which we bring to life practical topics of accountability and transparency in business. Youth unemployment is the Number One issue in the region. Business start-ups, early-stage growth companies and SMEs have a huge role to play as massive potential net job creators. We have to ensure that our entrepreneurs and our business leaders of tomorrow are setting up, growing and managing ventures that are fundamentally based on values of integrity, ethics and responsibility.
Throughout our trip across the Kingdom, we saw great energy and enthusiasm from students towards accountable leadership, ethical business and environmental responsibility. Faculty are keen to use the Pearl Initiative GCC Good Practices Report as class teaching material, in areas such as Ethics, Compliance and Reporting as the case studies are from within the region – and therefore much more relevant than using case studies on company experiences from elsewhere in the world.
We at the Pearl Initiative could not agree more. Using case studies that are relevant to the region not only helps businesses, but also helps universities. There are closer ties for students to connect to businesses and learn from such cases.
In my own experience, I think that it is equally important for students to be involved in the writing process of regionally relevant case studies on transparency and accountability. Not only does it help ingrain the research in the student's minds, hone other necessary skills, but it also allows for students to have that direct interaction with businesses and get them thinking about real-life situations. We need to further engage and inspire business students in understanding real-life application of integrity, ethics, responsibility, governance, transparency and accountability within a local, as well as a global, business context.
Watch this space, going into 2013, for more on how we're going to be engaging students in helping research and write regional good practice case studies!