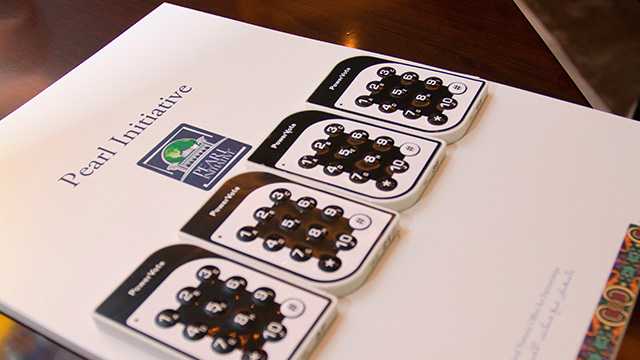 Gaining fresh insights into corporate perceptions
Here at the Pearl Initiative we are always looking for new ways to gain fresh insight into the thinking of the business world, in order to understand how best to help raise the standards of corporate accountability and transparency in the region.
Last week, we were in Bahrain for two reasons. Firstly, we held our fourth Board of Governors Meeting, in which we discussed long and short-term strategy, key imperatives and the design of our organizational processes. Our Board members champion our cause, support us with their time, their ideas and their vision, and challenge us to consistently focus on and enact the core values of our organization – for all of which, we are very grateful.
The second reason for being in Bahrain was to host a business leaders' roundtable event on Corporate Accountability and Governance.
In a first for us, we decided to incorporate real-time polling throughout the roundtable discussions, in order to gain fresh insights on the views and experiences of participants. We asked structured questions about perceptions of the business case and the outlook going forward, as well as questions on levels of implementation on aspects of accountability and transparency, and attitudes towards environmental, social and governance factors.
The majority of our participants were from Bahrain, and this was undertaken at one event, but we can take these questions to other events in other places. This should give us continually fresh, local insights and give us a more accurate picture of how attitudes to these important topics differ from market to market and over time.
Over the coming year and beyond, it is our goal to track the resulting content, shed some light on how perceptions change over time, and to identify what the drivers are for such change.
It is obviously early days to be drawing conclusions, but what we can tell you is that the future is encouraging. Not only do we have recognition of the value-add in adopting better practices, but the indications are that the path to greater levels of implementation is underway.
One of our long term goals is to foster an environment in which adopting the values that we promote can be the difference between winning and losing the race for competitive advantage. Perhaps it is not quite such a long term goal after all?