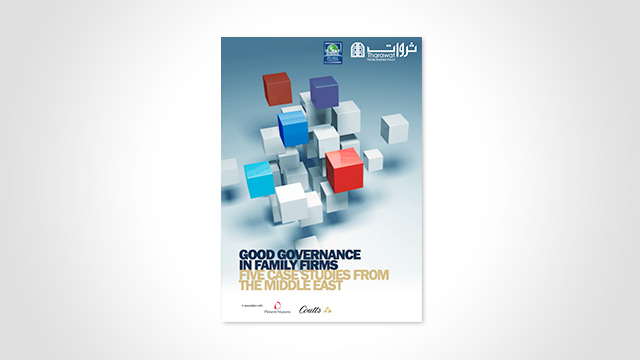 Launch of the Good Governance in Family Firms Report
The Pearl Initiative and the Tharawat Family Business Forum have launched, in an exclusive event in Dubai on Thursday 5th June, a case study report on good governance in five family firms from the Middle East. The gathering was attended by family business owners and experts from the Middle East and Europe.
Developing strong governance and robust succession planning is a trend that is gathering increasing momentum with family firms across the Gulf and the Middle East. This new research report "Good Governance in Family Firms: Five Case Studies from the Middle East" studies the governance frameworks of five of the region's most prominent Family Firms; WJ Towell Group, SABIS®, Alissa Group, Zamil Group and Majid Al Futtaim Group providing in-depth analysis for similar firms to draw upon.
The report, supported by the international law firm Pinsent Masons and Coutts, the private bank and wealth manager, provides unprecedented access to usually very private family firms, examining the governance policies and procedures they have in place and the challenges and opportunities they faced in implementing them. These detailed case studies are part of the Pearl Initiative's aim to build a body of region-specific research that improves corporate governance standards throughout the Arab World.
In earlier research published in 2013 within the report "Family Matters: Governance Practices in GCC Family Firms", the Pearl Initiative found that Gulf family business owners do believe that corporate governance is becoming a key factor that will ensure the long-term health of the company and improve transparency, access to capital and talent. Many believe that improved governance will enhance professionalism and international competitiveness. The critical issue now is in the rigorous implementation of these practices.
In-depth interviews with owners and management of the five organisations identified unanimous agreement that corporate governance is a key factor to safe-guarding the long-term health of the company. They agreed that implementing governance systems improves transparency, access to capital and talent requisition. There was also consensus that there is no template for Governance policies and that instead, best practice should be adapted to each individual, family and situation. In each case, great efforts were being made to develop corporate governance systems that mirror the family's culture and ensure the continuous implementation of its vision and ethics. In addition, each firm's experience showed that buy-in from the family and clear communications are vital if the journey is to be successful. In all cases, having a clear vision and expectation of the governance structure was a key success factor.
Every family business is unique, and so it is important that governance frameworks are flexible. However there are some intrinsically similar challenges that every business faces, and a strong governance framework is key to ensuring its long-term survival and success. Over the past few years, many family firms across the region have not only come to accept, but embrace, the need to adopt best corporate governance practices and with this report, we hope to provide a body of research that others can draw on when considering their own governance initiatives. As individual companies begin to implement robust models, the next stage in the adoption process is to share best practices with each other. Sharing best practices encourages others to adopt these higher standards, which makes good business sense for all stakeholders in our regional markets. This is particularly important as it means that we can adopt locally-relevant best practices that have a real and practical application within the Region.
We are truly grateful to each of the family firms who allowed us to interview them, and appreciate their honesty and candour about a sector that is traditionally viewed as very private. We hope that this joint collaborative report by the Pearl Initiative and the Tharawat Family Business Forum can help to provide a strong knowledge base for those operating inside and outside of the family firm sector, to understand in more detail the pressures and opportunities they face.