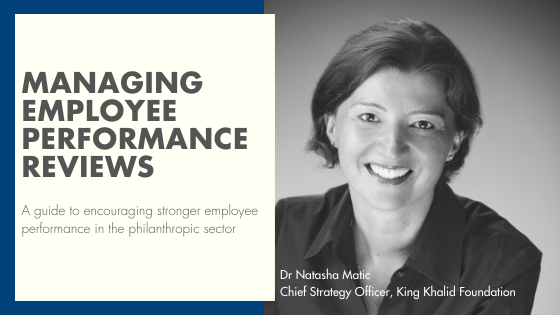 Managing Employee Performance Reviews
A well thought out Employee Performance Management system begins with a clear definition of the overall organisational strategy. At King Khalid Foundation, this process of comprehensive strategy review is done every three years through a participatory approach where all staff members are given the space to discuss and input on the foundation's strategy, vision, mission, values, objectives and KPIs. The strategy is reviewed annually to ensure internal and external alignment with the set goals.
On a programme level, action plans, log frames, and monitoring and evaluation plans are set together with all supporting services required based on the overall strategy and direction of the foundation. For staff, the overall strategy translates into employee performance plans with KPIs tied to specific activities and programmes, which are also linked to the overarching organisational mission and vision. These plans are agreed and signed off by the supervisor, staff member and human resources.
Like the annual review of the strategy, supervisors and managers are required to discuss their employees' performance at mid-year and provide constructive feedback, which can be addressed during the remainder of the year. Staff are rated and given written feedback by the end of the year and they are given the opportunity to respond to their performance review. Moreover, professional development opportunities, promotions, salary raises and bonuses are discussed and determined at that time.
This comprehensive approach to Employee Performance Management ensures that all processes and activities within the foundation feed into its strategy, vision, mission and goals. By linking individual employee KPIs to the overall organisational KPIs, the foundation and its employees become accountable to the same values. Ultimately, adopting such a solid Employee Performance Management system reduces costs and most importantly increases organisational impact.