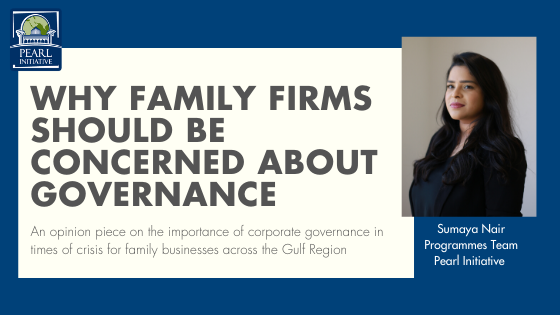 Why family firms should be concerned about governance
Family firms across the Gulf Region have long-since been established as the backbone of the economy – comprising 90% of private sector commercial activity and contributing over 60% of the Gross Domestic Product (GDP) outside the oil industry. Yet curiously, we still find that just under 15% of them continue to be profitable into the third generation. With an imminent generational shift in leadership and 1 trillion USD in assets expected to be passed onto the next generation in the next decade, regional family businesses are facing challenges to their sustainability and longevity.
The global pandemic of COVID-19 has resulted in a loss of revenue generation for the private sector. Consumers have become more prudent with spending due to temporary suspensions of businesses and heightened risk perceptions caused by plummeting oil prices. As such, the rapidly shifting economic landscape has made it more pertinent than ever for family firms to understand and action these hurdles proactively. Family businesses have the unique opportunity to equip themselves towards long-term resilience through the development of a robust corporate governance structure.
There is a storied history of family-owned companies having poor transparency and an absence of accountability. These businesses have also expressed other key concerns in balancing the fair involvement of family members from multiple generations. Many of these issues often arise as a result of ineffective succession planning and an absence of formal management structures.
Research shows that most family firms in the Gulf Region indeed do not have a formal succession plan in place. Families also tend to be unaware that there is a varied rubric for choosing a successor, and therefore have a natural tendency to pass ownership down to the eldest member of the next generation, regardless of merit. Next generation leaders are attempting to establish a strong foothold in the business, but this can be complex when there are no formal structures in place for a shift in leadership. An effective solution to these family ownership challenges are corporate governance measures – including the adoption of transparency and accountability.
It is widely known that family business owners pride themselves in their values, versatility, and most importantly, in the legacy that they leave behind for the generations to come. The Pearl Initiative recently hosted a webinar with Dr Adnan Abrahim, a family business legal advisor, who reflected on numerous clients that faced irreconcilable familial conflict and disruptions to business continuity following the passing of the patriarch, due to the lack of a timely succession plan.
Before devising a succession plan, senior members of family firms must identify the most promising candidate from the next generation who has both the capability and the vision to take the business forward. Businesses must consider the implications of transitioning ownership into the next generation, including accepting that there will be a degree of power redistribution and that the incoming cohort will require guidance from outgoing business leaders. Through the recognition that the new generation may be better positioned to scale the company by addressing contemporary disruptions such as digitalisation, it is also imperative that the business model is worked around their strengths and interests.
Governance measures have proven to have led to long-term success and in maintaining peace in the family. However, corporate governance is still seen as a lower strategic priority compared to wider commercial concerns, and this will only be exasperated because of the pandemic. But if we can recognise a lack of governance as being detrimental to the long-term profitability of family businesses and therefore the regional economy, surely, we must treat it as a priority?
Family firms are fortunate in their unique nature – in having their form of ownership, they can streamline critical actions, which is a necessity for crisis management. By formalising governance structures and developing an effective succession plan, family businesses in the Gulf can potentially counter and mitigate detrimental impacts to the longevity of their organisations. This will catalyse the growth of stable, successful, and sustainable family firms that continue to contribute towards the regional economic landscape.
In a segment where a channel for transparent communication is both crucial and limited, the Pearl Initiative's flagship Governance in Family Firms programme convenes stakeholders and provides an open platform for true sentiments around the obstacles and opportunities of family businesses to be demonstrated. Through the delivery of guides, roundtables and practical workshops, the programme supports the adoption of effective governance solutions to overcome family ownership challenges.