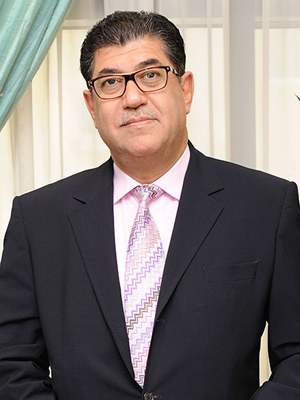 Contact Info
Jamal Fakhro
Managing Partner, KPMG Bahrain & Qatar
With over 35 years of experience as client partner and advisor, Jamal has been a partner at KPMG Fakhro since 1982 (formerly Fakhro Establishment for Accounting and Auditing) and became Managing Partner in 1987.
Jamal is currently the relationship partner for a select group of high profile clients in Bahrain and Qatar. His key areas of expertise typically include financial services (including Islamic finance), strategic planning and investments, G.C.C and emerging markets insights, corporate governance and family governance.
Jamal was the Chair of KPMG's Middle East and South Asia Board from 2010 until 2014 and represented the region on KPMG's EMA board, KPMG's International Board and International Council.
Jamal is also the Founder of the Jassim Fakhro fund, which supports young Bahrainis to achieve professional qualifications/ education. He also sits on the advisory board of a number of NGOs and Not-for profit organisations in Bahrain and the region.
Jamal is a veteran Bahraini Legislator, and has been an active member of the Bahrain Shura Council (Consultative Council – Majlis al-shura is the name given to the upper house of the National Assembly) since 1992. He has been the 'First Vice Chairman' for a number of legislative terms.
Having been a member of the Shura Council for over two decades, he has held responsibility and has led in many critical roles in different fields including Financial and Economic Affairs, National Action Charter of Bahrain, National Dialogue, and the National Committee to follow up on the implementation of the Bahrain Independent Commission of Inquiry. As a part of his responsibilities within the Shura Council, he has also led a number of international, regional and national delegations at parliamentarian conferences, including his role in heading the Bahrain delegation to the IPU (Inter-Parliamentary Union) since 2007.