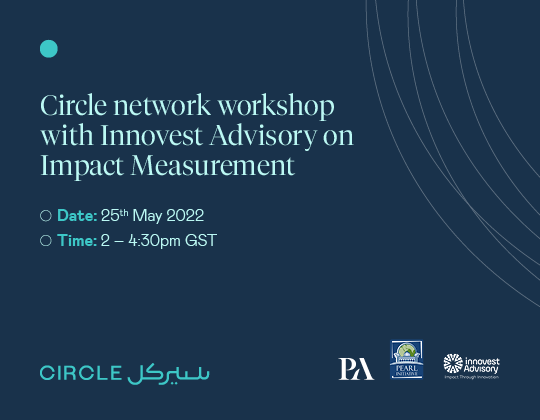 Philanthropy Programme Hosts Regional Donors for Workshop to Discuss Impact Measurement and Management
On 25th May, the Pearl Initiative's Governance in Philanthropy Programme held an interactive and informative workshop on Impact Measurement and Management (IMM) for its institutional donor network. Held in a hybrid format (virtual and in-person), the workshop was designed and delivered by Innovest Advisory, with the aim of introducing workshop attendees to the basics of impact measurement and management.
The workshop began with a theoretical overview on Impact Strategy, which covered the 'What, the Who and the Why' on grant funders looking to measure and manage impact.  The workshop then went on to provide insight into how to develop an impact strategy, detailing the three components to a good strategy: An Impact Thesis, Theory of Change and Impact Measurement Framework.
This was followed by breakout sessions where participants were put into groups and given a fictitious project scenario for which they were asked to develop their own mini-impact strategy. They created summary impact goals, a skeleton theory of change and some sample KPIs and metrics that related back to their impact goals and theory of change.
The next segment of the session focused on how an impact strategy can be used as a tool to screen and select the most appropriate organisations to fund. This selection and due diligence process is essential to the success of an organisation's impact strategy as it ensures alignment of grants with the overall impact focus of the funder.
Lastly, participants were introduced to the key principles of an IMM system, the various stages of setting up an IMM system and the various approaches to reporting impact data.
The final session of the workshop covered practical case studies both geographically and thematically relevant to participants. The case studies explored theory of change development, setting of KPIs and metrics, implementing a measurement methodology and how to communicate results from beneficiary surveys.
Key Takeaways:
A deeper understanding of impact strategy and IMM
Understanding of why the market demands IMM
The value to their organisation of moving from a traditional model of monitoring and evaluation to the more advanced, best in class approaches demonstrated by IMM
Introduction to impact measurement tools
Application of an impact strategy and exposure to real life case studies
The workshop ended with attendees providing feedback from the breakout session and their reflections on how they can apply the impact strategy theory and IMM tools within their organisations. The Philanthropy Programme recognises the benefit of additional engagement through bespoke IMM training sessions to provide advanced training and guidance tailored to donors' needs.
This event was held as part of the Governance in Philanthropy programme's Circle network. If you are either an institutional or individual donor who operates in the Gulf region, do reach out to us at snair@pearlinitiative.org to learn more, and join the network for access to bespoke resources and member-only convenings.