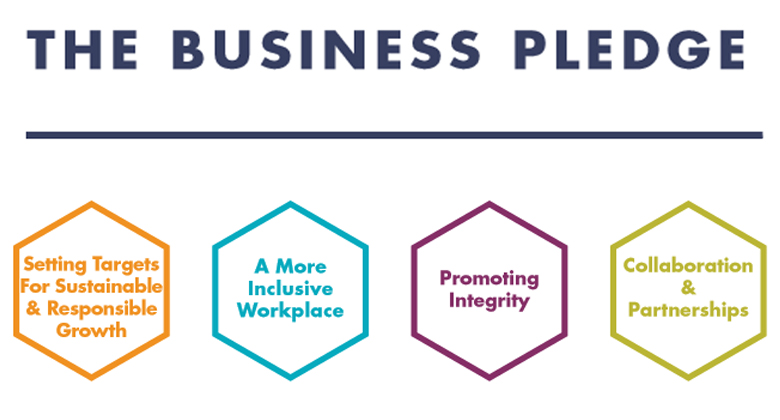 The Business Pledge – A Young Leader's Perspective
The Pearl Initiative's Business Pledge programme was launched to call upon Senior Business Leaders in the Gulf Region to make a public commitment to adhere to principles of ethical and responsible conduct when interacting with the society. The Business Pledge will serve businesses as both a commitment and a guide on the journey towards responsible and sustainable growth.
The four areas are a commitment to:
Setting targets for sustainable and responsible growth
A more inclusive workplace
Promoting integrity
Collaborations and partnerships
The business leaders who have signed the business pledge have made commitments to meet university students once every year to enlighten the youth with the progresses they have made in context to the business pledge.
Having organisations address the students about ethical business practices and integrity will have a positive impact as they are the business leaders of tomorrow. Organisations will share to the youth the ways in which they are committed to the Business Pledge by presenting their progress in any of the practicing pillars of the pledge.
This will be an exciting opportunity for students as they will be visiting the organisations and learning about these practices from a senior executive of the company. The meetings between students and business leaders will bring a whole new outlook on how good governance practices are perceived and can help tune mindsets of our inspired future business leaders.
These meetings will serve the purpose of spreading knowledge about ethical and responsible business conduct and its necessity among both the student community as well as the wider business community. Students will be asked to write a short case study on the information that is presented to them. A selection of these reports will be published publicly on the Pearl Initiative resource centre.
Organisations will have to keep striving to bring out and portray themselves in the best way possible as this will increase their credibility and will help them gain recognition among students and to the Private Sector.
The meetings between students and organisations helps The Peal Initiative to monitor the progress of the organisations that have signed the Business Pledge as an ongoing effort to advance corporate accountability and transparency across the business community.