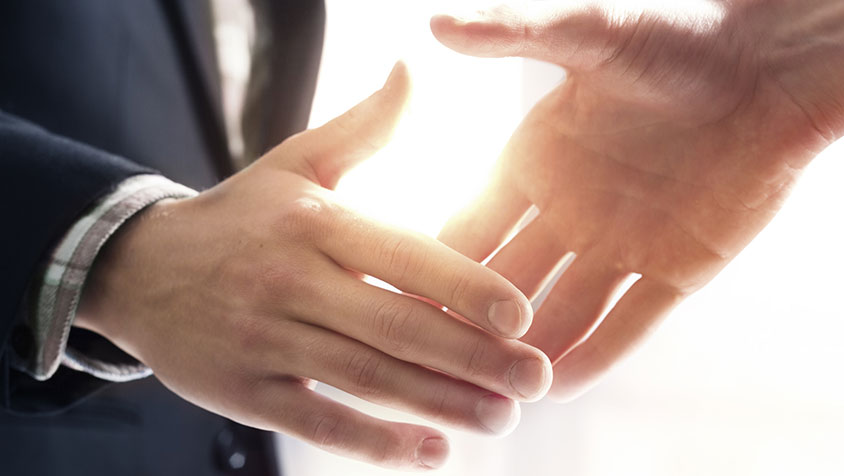 Trust is now a must in corporate culture
In this week's guest blog, Badr Jafar, Chief Executive of Crescent Enterprises and founder of the Pearl Initiative, talks about Corporate transparency and how vital it is in today's digital age. The blog was published in Vision magazine. The source blog is here.
In today's digital world the need to be transparent has never been so great, says Badr Jafar Transparency and corporate accountability were brought to the forefront of the UAE's agenda at the Pearl Initiative and UN Global Compact joint regional forum held in Dubai in April under the patronage of His Highness Sheikh Hamdan bin Mohammed bin Rashid Al Maktoum, Crown Prince of Dubai.
The event was attended by 600 regional and international business leaders and representatives from UN organisations, government, civil society and universities, and the forum title 'Corporate Accountability Matters: Business Integrity and Value Creation Beyond 2015' reflected the vision that corporate accountability and integrity are fundamental drivers of competitive economic growth, job creation and sustainable social development in the Gulf region and beyond.
Before underscoring the role corporate accountability can play in a business, it is important to understand what it is. There is often confusion between corporate social responsibility (CSR) and corporate accountability, and while the two are linked, they are different concepts. CSR refers to a business practice that involves participating in initiatives that benefit society; corporate accountability is a company's commitment to be transparent in the way it accounts, reports and publicly accepts responsibility for its activities, including financial, social and environmental performance, all of which are indicators of its sustainability. it is applicable to all companies, regardless of age or size.
In today's digital world, the need to be transparent has never been so great. We are moving into an era of information governance defined by transparency, accountability and 24/7 information readiness. Companies are becoming more communicative about their operations and plans because doing so is in their best interest. Why? Because at its heart, corporate accountability is the best tool for generating trust. Unlike reputation, which is based on an aggregate of past experiences, trust is a forward-facing metric of stakeholder expectation. Generating trust with stakeholders is invaluable for businesses that aim to be sustainably successful.
Trust is one of the single most important aspects of any relationship. It is the lifeblood of positive and lasting relationships and the key to that powerful third-party endorsement. Building trust is vital when bringing new products and services to market, and generating trust in new business innovation requires that companies demonstrate clear personal and societal benefits, behave with integrity and engage with stakeholders and customers throughout.
Think about it: all businesses are in the people business. It's the relationships that we forge and the trust we create that matters most to our success. Countries and their respective businesses are catching on to this. The UAE topped the globally recognised Edelman Trust Barometer in the government trust and business trust categories this year.
But like all interpersonal metrics, trust is something that, once gained, must be nurtured and reinforced.
Highlighting the Dubai leadership's strong belief in the principle of trust, His Highness Sheikh Mohammed bin Rashid Al Maktoum, Vice-President and Prime Minister of the UAE and Ruler of Dubai, said in response to the rankings: "In order to maintain these achievements, we must double our efforts and harness our potential in the best service of the people as well as for meeting their expectations."
And the importance of the role of trust doesn't end there. Trust also helps companies generate value and resilience, enabling them to grow, creating more jobs, stimulating economic activity and providing opportunities for entrepreneurs. These new professionals and business owners gain skills and access to healthy markets. This stimulates the economy as an ethical, transparent place in which to do business, creating a nucleus for foreign investment. It is clear that accountable and well-run companies are the building blocks of a sustainable economy and society.
In the Middle East, the impact of youth unemployment across the region has been well documented. Even here in the GCC, we can expect our workforce to grow by four per cent each year, meaning that by 2020, the year of the Dubai Expo, the region will need an extra three million jobs for Gulf nationals entering the job market. And we know that we cannot, and should not, expect our governments to take on this challenge single-handedly.
The only sustainable solution is to have healthy companies generating jobs, and strong economies providing opportunities. These are the real drivers of social and economic sustainability. Corporate accountability and the trust that it generates are at the heart of this development, in which we all play an important role.