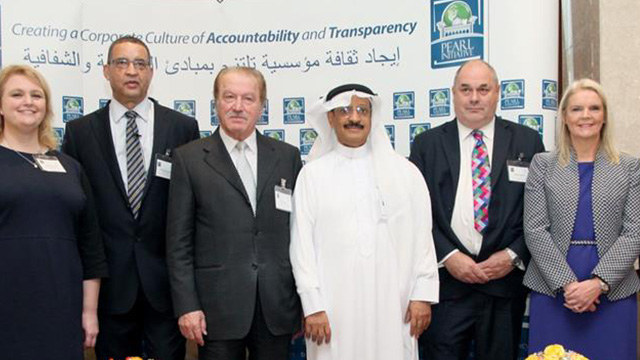 Pearl Initiative & World Economic Forum (PACI) Roundtable
Irina Kovaykina – Student of the American University of Sharjah
On November 12, I had the privilege of attending a panel discussion on "Global Trends, Collaboration and Advances in Fighting Corruption" hosted by the Pearl Initiative. The topic of corruption has recently garnered worldwide attention, and with the Pearl Initiative our region is joining the discussion. Distinguished international and regional speakers from diverse professional backgrounds shared their perspectives, experiences, and the challenges they faced while combatting corruption. Focusing on the Middle East, the guests emphasized the importance of collective action in the fight against corruption. The overall message of the panel was that through cooperation, companies, governments, non-profit organizations, and other stakeholders, working together, can tackle the issue from multiple angels and promote accountability, transparency and long-term sustainability and growth.
I can say, without a doubt, the event was a great educational experience. Not only did the panel session provide a platform for a dialogue amongst prominent regional business leaders, but it also served as a bridge between traditional textbook knowledge and practical experiences. Specifically, the panel provided examples of practical, real life applications of theories and concepts I had learned in business courses at the university. The speakers also talked out the limitations of these concepts, knowledge which can only be obtained after many years of experience in any specific industry. The panel also presented the audience with the unique opportunity of listening to government and private enterprise representatives as they shared the same stage and gave their opinions on transparency and corruption. In my opinion, the two complemented each other. While government officials were focused on the need for regulatory reform, speakers from the private sectors seemed more concerned about the smaller, inexpensive, proactive steps individual companies could take.
As a student, I cannot help noticing that the topic of corruption is largely missing from our textbooks, and where it is found, the concepts discussed are very general and usually outdated. This event provided me with more up-to-date insights into the current challenges, in a region where corruption remains somewhat of a taboo subject. The Pearl Initiative, in my opinion, will further its cause by inviting more university students to attend such discussions. It can do this by actively advertising upcoming events on university campuses and recruit volunteers. Students will come out of these events much like I did – with a greater and much deeper understanding of the regions specific problems. In short, this will help instill within students the values and morals needed to create and navigate the transparent environment of tomorrow. This is something that was specifically mentioned by Mr. Riad Sadiq, one of the speakers at the event.
Overall, I believe that the most important triumph of this panel discussion is that it has created a space where everyone, from employees to CEOs and government officials, could openly talk about corruption and share experiences and ideas about how best to fight it. For me, it was a great educational experience and I hope to be able to attend future events.