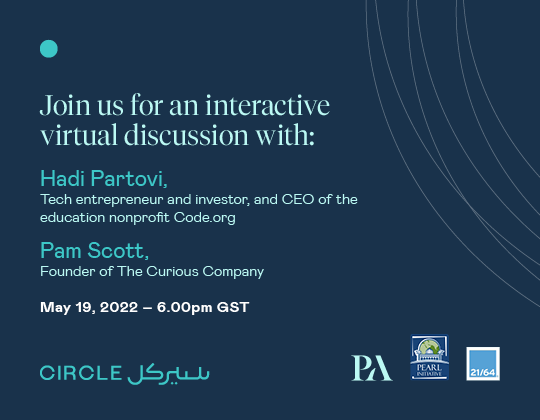 Philanthropy Programme Hosts Regional Donors to Discuss Innovative Giving
On 19th May, the Pearl Initiative's Governance in Philanthropy programme held a virtual discussion on Innovative Giving. The first session in the three-part Exploring Series was a virtual discussion that featured Hadi Partovi, Co-Founder and CEO of Code.org and Pam Scott, Philanthropist and Founder of The Curious Company. The philanthropic sector is not short of impactful foundations and non-profits supporting and helping communities thrive, yet the transformative potential of many organisations remains untapped. The sessions' guest speakers shared with Circle members how they use their time, talent, ties, as well as their treasure to take their ideas to scale, catalyse movements, build partnerships, and attract investments to transform the communities they serve and beyond.
The session began with introductions and icebreaker exercises, facilitated by international subject matter expersts 21/64, followed by a keynote discussion between Sharna Goldseker, Founder & Vice President of 21/64, and Hadi. Participants were then given the opportunity to ask questions directly to Hadi. This process was then repeated with the second speaker, Pam.
Key Takeaways:
Hadi denoted that dreaming big and getting as many partners as possible on board was a driving force in him scaling code.org and the reach that it has had
Hadi highlighted that his entrepreneurial spirit and desire to create impact in an unfamiliar environment supported his success
Hadi also spoke about his journey as an immigrant from Iran and how that shaped the approach he took later in life and his wishes to create social impact
Pam reflected on the successes she has found in using the innovative process of human-centred design to develop solutions to social issues
Pam highlighted the need to learn from the field and from people who are proximate to the challenge, as they often hold most of the wisdom needed to bring a solution to the problem
Pam denoted that it is vital to remain curious and open to shifting approaches implemented if it is not necessarily the most effective way to address the issue, and to be as receptive as possible to the people you are serving and those closest to the cause at hand
The session ended with a facilitated discussion on reflections and outcomes based on the knowledge and expertise shared by the guest speakers. Attendees reflected on their own giving practices and how they could potentially adopt principles that were learnt during the virtual discussion.
This event was held as part of the Governance in Philanthropy programme's Circle network. If you are either an institutional or individual donor who operates in the Gulf region, do reach out to us at enquiries@pearlinitiative.org to learn more, and join the network for access to bespoke resources and member-only convenings.