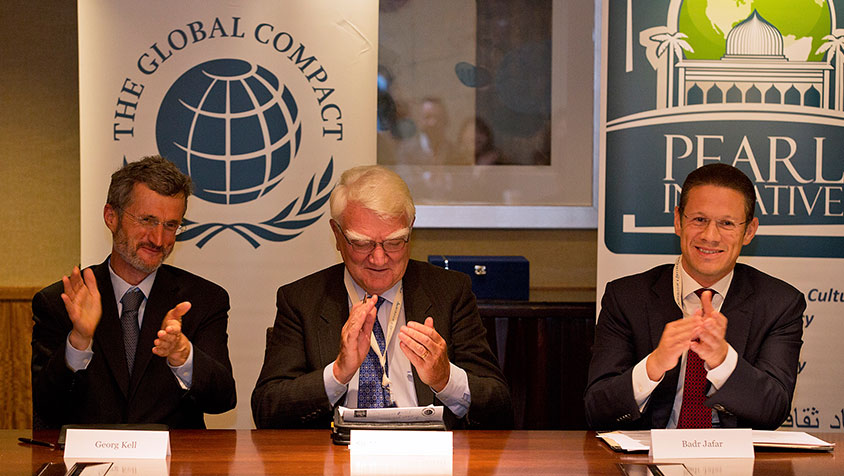 United Nations Global Compact Partnership
We founded the Pearl Initiative due to a genuine need to grow, develop and champion corporate governance, accountability and transparency in this region. Because of our work in this area over the past three years, we were recently invited to New York to participate in the United Nations Global Compact Leaders' Summit. During the conference, we met some of the most impressive business minds in the world to discuss how to improve standards across a multitude of areas. We also signed a partnership with the UN Global Compact, the world's largest corporate sustainability initiative to create regionally relevant responsible business practice programmes.
As the GCC economies emerge from the global financial slowdown, governance models and systems should be put in place to guard against corruption, bribery and poor business practice and enable us to make the most of the economic resurgence. Well-defined shareholder rights, a solid control environment, high levels of transparency and an empowered board of directors make a company both more attractive to investors and lenders, and more profitable. Therefore, it is in our best interest to make sure the organisations based in the Arab region are fully equipped to navigate the risks they are faced with so they may rise with the economy.
Recent research by the UN Global Compact and Accenture found that 93 per cent of respondents believe environmental, social and governance issues are important to the future of their business. And this is where the Pearl Initiative can assist; our new partnership with the UN Global Compact will lead to the creation of a number of joint programmes designed specifically for the MENA region. It essentially gives as additional best practice resources so we may focus on improving governance, diversity, transparent reporting and anti-corruption in the private sector
We believe that the Arab world must work to leverage both international best practice and regional expertise, to the benefit of our economies. Although one size does not fit all, our principles, and those of the UN Global Compact provide a guide to for companies to consider when building their corporate governance framework, considering that good corporate governance is a gradual process. It is not about applying business practices from other parts of the world to companies here and hoping they still work. Instead, we plan to reinforce positive regional experiences to encourage more companies to embark on a journey to raise business standards. The UN Global Compact principles have spurred thousands of companies around the world to embed sustainability into their organisations, it is now time to bring them to the attention to the Arab world. This is our mission and we do hope you'll join us.